My Week of Spotlighting Inspiring Female Entrepreneurs and Change-Makers
To celebrate International Women's Day #IWD2021, I wanted to use my platform to spotlight some female entrepreneurs and change-makers who inspire me. 
It was SO hard to whittle these down to just a few – the world is FULL of incredible women who are making a difference! 
But whittle them down I did and created this article for you spotlighting each fantastic lady. 
Dame 'Steve' Shirley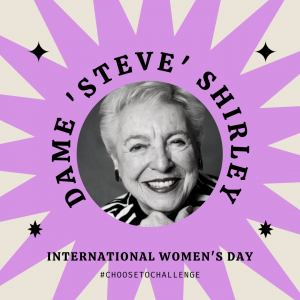 My first instalment is the pioneering Dame 'Steve' (Stephanie) Shirley @damestephanie_.
I have chosen Shirley as not only did she build a $3 billion tech empire in 1960s England, she did it with an all-female, work-from-home staff of professionally qualified women, who had left the workforce after marrying and having children!!
So ahead of her time ✨⏰🚀
Having hit the glass ceiling herself many times, Shirley set out to establish her own software enterprise for women, built by women. Of course, this wasn't easy at a time where sexism was powerfully entrenched within society (women couldn't even open a bank account without their husband's permission) and the workplace, very male-dominated. As women weren't taken seriously within business, she used Steve in her business development letters in order to get through the door before anyone realised that he was a she.
She and her employees pioneered the idea of women going back into the workforce after a career break, and promoted flexible work methods, job sharing, profit-sharing, and company co-ownership.
So here is to Dame 'Steve' (Stephanie) Shirley and her passion to challenge the status quo, her dedication to supporting other women (especially mothers) and for showing us what is possible. 
Want a supercharged shot of inspo? I highly recommend you watch this TED talk from Shirley herself: Why Ambitious Women Have Flat Heads.
Jameela Jamil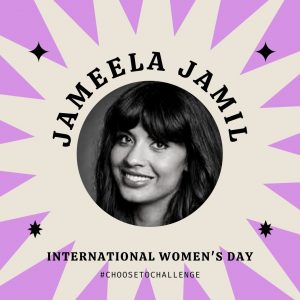 Next, the brilliant Jameela Jamil @jameelajamilofficial. 
One of the many things that inspire me about Jamil is how she has reinvented herself throughout her career and has evolved into a space where she is passionately sharing her authentic truth. 
If you want to hear Jamil first hand truly standing in her truth, I highly recommend this podcast episode: How To Fail with Jameela Jamil. Jamil also hosts her own podcast: I Weigh. 
As an actress, radio presenter, model, writer, podcast host and activist she is also a true modern-day multi-hyphenate!
Empowering and inspiring endeavours that stick out for me about Jamil include:

The founding of Why Not People – a members club established exclusively for disabled people; putting on gigs with some of the biggest artists with the long term goal of making every venue and event more accessible✨

Setting up the

@i_weigh

Instagram account which Jamil describes as "a movement… for us to feel valuable and see how amazing we are, and look past the flesh on our bones".The account welcomes submissions of followers' non-edited or airbrushed selfies using the hashtag

#iweigh

, with text describing the things that they feel grateful for or proud of. In part due to this work, Jamil was listed as one of BBC's 100 Women during 2018 🙌🏼
Her continued commitment to feminism and being a voice in the celebrity industry that advocates and champions female body image 🖤
Whitney Wolfe Herd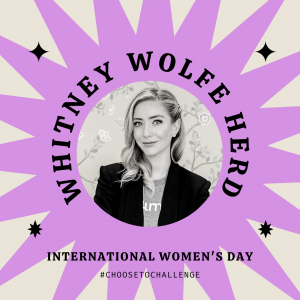 The third candidate is particularly inspiring to me personally, Whitney Wolfe Herd @whitney; a female founder, mum and the true queen of turning a side hustle into a successful business!
Launching Bumble, the dating app, in 2014, Wolfe Herd challenged gender norms in both the business and dating worlds by creating the female-owned and female-led company that gives women the power to make the first move.
A superstar side hustler, she monetised the app in 2016 and this year became the youngest female CEO to take a company public in the United States and the world's youngest self-made female billionaire – achieving both with the 1-year-old son by her side. What a kick-ass boss babe!
Female empowerment is at the core of every decision Wolfe Herd makes. When she notices something that skews equality she faces it front on and chooses to challenge it e.g. Bumble has banned body shaming and uses AI to remove unwanted nude images before the users see them.
She's not just on a mission to change the dating world by giving women the first move, but she is committed to empowering women to take the first move in every aspect of their lives.
In 2018, she launched a fund that invests in businesses founded and led by women of colour and underrepresented groups.
"Our aim is to be another voice calling out for more investment in women-owned businesses and encourage others to take part in bringing amazing women entrepreneurs into the heavily-skewed venture capital ecosystem."
This is just a snapshot of all the incredible, forward-thinking, fearless ways Wolfe Herd is making a difference and I hope this insight into her career INSPIRES you.
Michelle Obama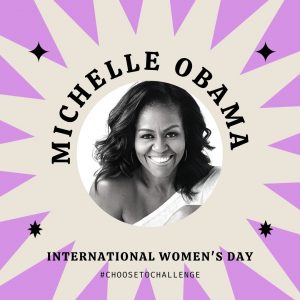 And last but by NO MEANS least, I am rounding off this exercise of spotlighting inspirational women with a BIG one; Michelle Obama @michelleobama.
The one and only. What a LEGEND! Have you seen her Netflix documentary 'Becoming'? It is such a powerful insight into Michelle's magic, presence, passion and empowering vibes.   
We all know her as the inspirational former First Lady, who fought against child obesity and led initiatives such as Let Girls Learn. But Michelle was smashing through barriers, overcoming hurdles and trailblazing her own way for years before she arrived at The White House.
She doesn't just believe education is empowerment, she lives and breathes it, and she always has. At Princeton University, she created a reading program for children of the school's manual labourers. At Harvard Law School, she took part in demonstrations calling for the administration to enrol more minority students and hire more minority professors. During her career in public service, she dedicated herself to engaging young people and enhancing the community in which she grew up.
She sees the potential in girls and women and continues to do all that she can to unlock female potential by promoting the education of girls and women globally.
This, amongst so many other reasons, is why she took the top position as one of my major role models. 
In Summary
I believe it is important to celebrate women's achievement, endeavours and diversity. By making women's stories more visible we can provide positive role models for current and future generations of women, nurturing our confidence and showing us what is possible. 
This campaign re-ignited in me a passion for the work I do; coaching female solopreneurs. The trials and tribulations of entrepreneurship can be one of the most challenging yet rewarding adventures we ever go on and being able to plug into the energy and raw power of other women is a great tool to support us in this journey. 
What has this article sparked in you? How has it made you feel? Which female founders inspire you and why? I would love to connect with you on this topic:
[email protected]
. 
#internationalwomensday #iwd2021 #femaleentrepreneurs #womensupportingwomen #femalepioneers #choosetochallenge2021 
Sign up for weekly inspiration, tools and confidence to help you grow your business.