How I went from a lack mindset in 2021 to an abundant mindset in 2022
I'll be honest, there have been some super challenging moments for me in the last couple of years. 
Suddenly moving back to Jersey due to Covid in March 2020, Covid itself and all that came with that (!) and navigating becoming a mother whilst being a solopreneur. 
With hindsight, and having done a lot of work on myself in the last 6 months, I look back at that time with utter compassion. 
Change can be hard, triggering, unsettling, anxiety-inducing – all the things. 
But it also offers opportunity, a chance to reinvent ourselves, new beginnings, deeper connection, growth. 
What I can see now is that the way I approached all of this change – the mindset I had – did not particularly serve me. More often than not I was in a mindset of fear, scarcity and lack. I say 'more often than not' as there were glimpses and flashes of abundance but they all too quickly fizzled out – quashed by the heaviness of my lack. 
And yes there were many periods when resting, slowing down and spending time away from the business was the right thing to do. But I was too often in victim mode, not taking ownership or responsibility for what was going on –  which was such a disempowering state to be in. 
All of this, coupled with the fact I went on maternity leave, translated into my business not doing so great.
When I went fully self-employed and solo in 2019 (following 6 months of side-hustling), I hit the ground running and did really well in my first year. This set the benchmark high. I knew what I was capable of and as a result, I had high expectations of myself, which made this 'slowing down' in my business an even harder pill to swallow. 
Thankfully, something truly shifted for me towards the end of last year and I began to have a deep, strong, burning desire to create positive change. To interrupt the cycle and to allow and facilitate 2022 to be different. 
I decided that I wanted things to change. 
How did this change my mindset? What impact did this decision have? 
A massive one! The moment I made that decision, it was like I lovingly planted a host of seeds in my mind. These were seeds of self-belief. 
My self-belief had been at rock bottom for so long and deciding I wanted things to change was akin to me saying to myself, 'I believe in you Sophie, you CAN do this'. 
Once I made the decision, I implemented a few small yet positive changes. These allowed me to start hoping and dreaming again. I began to visualise and imagine what I could create in 2022. This led to me taking more positive action. For the first time in a long time, I had clarity of my vision and my goals. I also started to be flooded with ideas again. The positive cycle upwards had begun.
Have you experienced this before?
Stepping back into my power didn't happen overnight, it took months (in fact it's a lifelong journey – more on that below).
Here are the actions I took to change my mindset (in the order in which I took them): 
I started to listen to positive, abundant podcasts again, something I had stopped doing over the last year: Deliciously Ella, There She Rose, How To Fail to name but a few
I also started reading again. The first book I picked up, that had been on my bedside table for too long, was Money A Love Story. I highly recommend it!
I started to proactively work on transforming my limiting beliefs (I'll share full details on the tools that I used to do this another day)

I committed to doing plenty of journaling which helped raise my levels of awareness

One afternoon, about 30+ affirmations and mantras just flowed out of me. I wrote each one down on its own post-it note and stuck them up as a collage on my wall (they're all still there)

I invested in a business mentor

I hosted my first live event in exactly 2 years, which was scary but a huge confidence boost

I harnessed the power and energy of the new year to draw a line under the Sophie I had been the last 12-18 months. With love, I said goodbye to her and stepped into the version of myself that I wanted to be in 2022

I invested in money mindset workshops and a manifestation course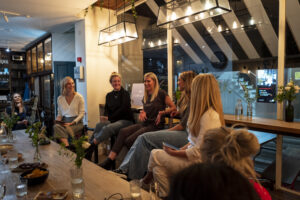 All of these actions together helped me to step up. I actually felt like I had taken some steps back so in a way, I feel like I'm back on the step that I was on pre-March 2020 – albeit with a heap more life experience, resilience and a baby! And I'm OK with that. This is a great place to be!
I'm building confidence and strength and I can already see myself gathering the power I need to take the next step up. 
This is how the process of growth and development is a lifelong journey of stepping up (and is why I call my most popular coaching programme 'STEP UP'). 
So let me throw this over to you now.
What have you learned about yourself through reading my story? Where are you in your own journey of stepping up? What action can you take to start getting different, more abundant and positive, outcomes? How are you going to change your mindset?
Sign up for weekly inspiration, tools and confidence to help you grow your business.
30th November 2022
PRIORITISE YOUR MINDSET TO SUCCEED IN BUSINESS Newsflash; business success is 5%…
24th August 2022
Are you treating your business with the love and care it deserves? Imagine if your…